|
Running time : 19:32 min
Actors : Gavin Waters, Samuel O'Toole
Description
It's a school night and diligent Samuel O'Toole is studying hard. He's in the middle of reviewing his class notes when Gavin Waters comes a knocking. Gavin's a little embarrassed, but he has a serious problem many young men often face. Gavin is super horny with no porn.

Samuel knows this issue well. In fact, he was getting a bit aroused himself, reading his notes about how gorillas in the jungle sometimes stroke each others cocks for days at a time. Samuel doesn't have any porn, but he's got two hands, a mouth, and a nice, hard dick of his own. He's happy to help his friend Gavin get off! After sucking him, he takes the liberty of face fucking young Gavin. And after that, it's an ass pounding he'll be daydreaming about in class.

Enjoy!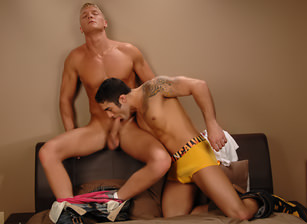 Recommended Movies
No records were found that match the search criteria.